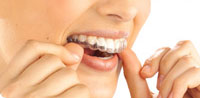 With Invisalign® you get the benefits of truly modern aligners designed specifically to fit you perfectly. These high tech aligners are designed for comfort and made of smooth, nearly invisible plastic which basically go unnoticed over your teeth.
These customized aligners slowly and position your teeth into the desired place, based on the precise movements your professional dentist designs for you. There aren't any unsightly brackets and no metal wires to tighten down. All you have to do is put in a fresh set of aligners every two weeks for the duration of your treatment. You can get a fantastic smile with hardly any inconvenience in your everyday life. The great thing about the entire process is that most people will never know you are straightening your teeth.
Perhaps you know how the Invisalign® treatment works, but let's go through the steps of the treatment process from the first time you speak to your dentist for a consultation to the conclusion. If you are thinking about treatment for yourself or somebody in your family, knowing as much as you can about the whole process can help you be more educated and confident about your decision to choose Invisalign for a wonderful smile.
Have a Consultation with an Invisalign Professional
Get a Custom, Designed Just for You Treatment Plan
Get Custom Aligners Based Exactly on Your Plan of Treatment
Every Two Weeks Put in a New Aligner
Your New Smile Will be Ready to Be Revealed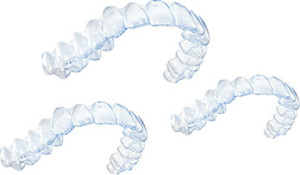 You know if you had regular braces, you could struggle with pain, mouth sores or injuries due to brace wires, decaying teeth, accumulated INVISALIGN 002plaque, yellow or brown teeth and trouble eating many types of food. Several people have questioned how veneers would compare to Invisalign. While good quality veneers are possibly a way to go for improving your smile, they only tend to hide specific dental imperfections instead of correcting them. The conclusion is that some of the dental problems you have could remain forever.
The benefits of properly aligned teeth can be surprising. Based on the American Dental Association, when people straighten their teeth they can really affect their overall dental health. You can affect your lifestyle along with your appearance. Invisalign® and Invisalign Teen® can offer an easy way to do this without putting your entire life on hiatus.